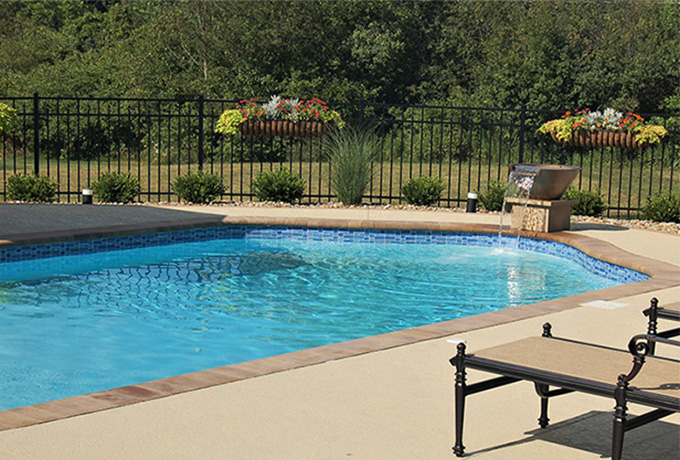 What our customers are saying…
Every pool we build is custom designed to meet the needs and dreams of our customers. No two pools are alike. The design-build process is compressed so that we can complete the entire process in just a few weeks.
We are pleased to have so many happy customers, and we appreciate their recommendations.
If you are thinking about getting a pool for your home, call us today! We are happy to give you pricing estimates over the phone!
Dear Steve and all of Classic Pool Staff,

We are overdue in sending you our thanks and appreciation for a job very well done. We couldn't be happier with our Classic Pool and we can't wait for our first whole pool season this year!

Steve, from our first meeting with you, we were impressed with your knowledge, experience and manner. We never felt any pressure to close the deal or upgrade the project. We always felt that you were interested in making our back yard a perfect fit for our family, space and budget.

The planning process was thorough, and Cathy in the office you were a huge help with tile selection.

We cannot overstate how impressed we were with the project crew. We felt each crew member approached our project as if they were building their very own pool. We witnessed numerous times that crew members paused to correct slight issues that were not yet perfect. Such attention to detail! The crew was courteous and friendly and answered all of our questions.

In all, we are delighted with our pool and we highly recommend Classic Pools to all!
Thank you all for building our pool and getting it done for the holiday. We can't thank you enough for all of the tiny things that your team did. We especially appreciated you all working around my deck project and helping move materials, my shed and keeping the work area clean and tidy.

We are so happy we chose your company to build our dream pool. Kudos to the entire team for making this a wonderful experience for our family. Looking forward to many great times.
Thinking about building a pool seemed rather intimidating to take on, but we were walked through everything step by step and included the whole way. Everyone that worked on our pool was so polite and so friendly, especially with our dogs (one guy even shared his lunch leftovers with our Great Dane). The whole process was very fast and efficient. Anytime I had a question, they were more than happy to take the time to speak with me and explain everything. We couldn't be happier with our end result and would use Classic Pools again in a heartbeat. Truly a wonderful experience.
My wife and I are so excited to be enjoying the first full season of our Classic built pool. The pool and patio were so beautifully designed and constructed and are bringing such fun and relaxation to our lives with our friends and family. Realizing of course that this was a HUGE lifestyle investment, I'm reminded of the PGA advertisements when I sit back poolside thinking about our decision to work with Steve Jones and his team. Simply put, "these guys are good."

From the original design meeting at our kitchen table, to breaking ground, pouring concrete and selecting capstone colors, our Classic Pools experience has been wonderful and we still can't believe our pool and patio were built in less than two weeks. This is a company that cares about its customers and works to ensure there's quality in everything they do. Our pool has transformed our back yard and our summer life and my wife likes to call it our "staycation" instead of vacation place. I would highly recommend the Classic Pool team to anyone looking to invest in a pool experience.
Our Classic Pool is the best investment we've made at our home and we are now wondering why we waited so long to do it! From our initial in-home meeting with Steve when he gave the presentation, to the final closing of the our new pool in October, every aspect of the design, installation, and instructions for care & usage was handled professionally. Steve, Bob, Clarence and the entire crew worked non-stop in some very hot days. Our pool installation date was moved up by a month due to lack of rain last summer, and was completed within two weeks. We couldn't be happier with the quality and beauty of our new pool. Classic Pools is highly recommended!
We would like to take this opportunity to thank you for a job well done on our new pool. It has been a great experience. Steve, Bob and crew were wonderful to work with. Our pool is beautiful; a step above all other pools. The other professional people referred to us by Steve (fence and SunDek) have also been great to work with. Thank you once again and have a great summer!
From the first moment that Steve Jones walked into our home, every experience with Classic Pools was professional and satisfying. We spent a great deal of time planning the exact dimensions and surroundings of our pool, with what seemed like endless changes, and Steve was always accommodating.

The actual construction process itself was started several days prior to our estimate, and the process took the exact amount of time that Steve predicted. The construction crew was very courteous and professional. We were very impressed with the amount of pride that they took in their work not only at the end project, but on a daily basis. There were several times that a crew member would return to our site later in the afternoon/evening to finish sealing or check on various aspects of the project.

And the finished project is breathtaking. We continued to be impressed and appreciative through our first few weeks as pool owners, as Bob and his crew made several house calls to check on our pool and help us with maintenance. In addition, both the landscaping company and the Sundek crew that Steve recommended were up to the high standards of Classic Pools. Overall, we have been completely satisfied with our Classic Pools experience, and feel that the end project was worth every penny!
We wanted a pool for a long time but were told by other pool companies that we couldn't put one in because of the soil content on our property (our house is built on wetlands). A friend recommended Classic Pools to us, so we called and had them come out to give us another opinion before we gave up the idea. Classic came out, dug test holes and took soil samples to an engineer who confirmed that our soil had a lot of soft clay that would not support a pool.

We challenged Classic to figure out a way to install a pool for us. Classic worked with an excavator and engineer to dig out the existing soft clay, fill in the hole with good top soil and compact the dirt to support construction. From there they dug out the pool area and installed a pool. They dug over thirty 9-foot deep holes and filled them with cement to create support columns for the patio area. They put trench drains in areas where water would have collected between the pool and house. They found ways to re-use the soft clay they dug out to help keep costs down.

After the pool was installed they were unbelievably helpful in coming out and helping us learn how to clean, maintain and care for the pool. Most importantly, all of the costs were exactly as estimated and there were no surprises. We provided Classic Pools with a rough sketch of what we had in mind for a design. They suggested improvements and transformed our backyard into an amazing recreation and relaxation area.

Classic Pools is by far the most professional and detail oriented construction company we have dealt with. We wish we would have called them 20 years ago.
Classic Pools put our pool in last summer. They came highly recommended by our builder. The people at Classic Pools were very friendly and easy to work with. Everyone was also very professional. Our pool is wonderful and has already added many wonderful memories with our family and neighbors. We really love the cover that Classic Pools recommended for the pool. We have a two year old and her safety was a huge concern for us. The automatic cover is on all the time unless the kids are swimming in it. It opens with the turn of a key. This helps keep the pool clean and warm. Most importantly, it keeps our child safe. We have only good things to say about this company. Choosing Classic Pools to put in your pool will be a great decision for you. Hope you have as much fun in your pool as we are having now.
When we decided to put a pool in our backyard and asked around for recommendations, everyone came back with the same response – Classic Pools. We found the entire experience with Classic Pools easy and enjoyable. Being able to custom design our pool was a feature we did not initially anticipate, but loved. Watching the construction process was impressive and we were swimming less than 10 days after the hole was dug! Steve and all the Classic Pools team members were thoughtful, courteous, and professional in all of our interactions. We now look forward to many years of fun and highly recommend Classic Pools.
Classic Pools helped us design the perfect backyard getaway in 2005. From the first meeting with Clarence Jones, we knew this was the company for us. The construction team was timely, friendly and extremely hardworking. We are so impressed with their work ethic that to this day we can't believe they built our beautiful pool in 7 days. The attention to detail is beyond what I had expected. Contacting Classic Pools was the best decision we made for investing in our lifestyle.
Classic Pools designed and built our pool in May of 2012. After our experience, we think Classic Pools is certainly the best. From the first time Steve Jones visited us we were very impressed by the way this family owned company does business.

Steve brought a slide show presentation of the pool installation process and a variety of completed backyard pool projects. He answered our questions and listened to the ideas that we had in mind. He came back with a perfect pool design for our backyard. Classic then gave us an approximate start date and the construction actually began a few days early.

The whole process took less than two weeks! We were in our pool in 10 days!! Classic handles everything from beginning to end, no sub contractors involved. The equipment this company has is impressive and quality of workmanship is unbelievable! The dedicated long time crew is some of the hardest working but friendliest people you would ever want to meet. The guys were never too busy to answer a question or calm a concern.

At Classic's retail store, Cathy answered questions we had about options & worked with us on choosing tile color and stone. Bob and friends showed us how to do everything pool related and it's really easy! Steve also recommended some very good people for related projects such as landscaping. We are totally satisfied with our pool, fire pit and entertainment area. We have and will continue to highly recommend Classic Pools to everyone.
Classic Pools designed and built an outdoor oasis for our family to enjoy. It is complete with a swimming pool, outdoor kitchen and a outdoor living space with a beautiful fireplace. I highly recommend this company. They were very professional and helpful with the planning.

They are very hard workers and stayed on task until the job was finished on schedule. This work was done in 2008 and we haven't had any problems or issues. Classic Pools exceeded our expectations from start to finish and we are very happy that we chose them for our project.